Covid turned the NHS upside down, and we are all agreed there is a lot of work to do to get things right again. Hospitals have record waiting times for elective surgery, and in primary care access to general practice – phoning up and getting an appointment – has become harder across the country.
But there are exceptions, and Living Well is one of them, where access over the last two years has much improved. The investments we made over the last few years are starting to show fruit.
Your call answered faster
More and more calls are now answered within 2 minutes (orange bar below) – 50pc in June 22 which is the latest data we have. And 80pc of calls were answered within 5 mins last month. Calls answered in over 10 minutes have decreased from 25% in February 2022 down to 2% last month.
This is a phenomenal achievement by our dedicated, fully trained and on site call handling team, now with up to 10 people on any one day taking your calls. And we're not done yet! We are determined to get the waits down further, with data showing 60pc of calls in July so far answered in under 2 minutes.
And, just in case you're thinking fewer people are calling us, our inbound calls are stable at a whopping 10,000 per month!
Peak call times are between 8-9am and 2-3pm, so avoiding these times where possible will result in very short waiting times, if any.
And don't forget, you don't even need to call us, submit an eConsult at any time and we will get back to you same day or next day.
GP Survey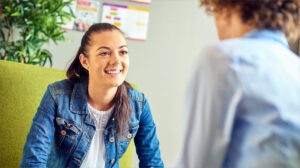 This year's GP Patient Survey – the national poll of patients' experience of their local surgery – had more good news for Living Well.
Compared with 2020 more than four times as many patients say it's easy to get through on the phone, and 60pc of our patients think our website is easy to use, up from 32pc in 2020.
Patients saying they could see or speak with their preferred GP doubled compared with last year, and 60pc of respondents said they saw someone face to face at the practice.
Patients did not have to wait long to get an appointment, 41pc said they had a same day or next day appointment, 63pc were seen within a few days and 88pc were seen within two weeks of their booking. Because we run an eConsult first service and every eConsult is screened by a GP we make sure those who are most unwell are seen first.
Patients were satisfied with their consultations with 86pc saying they had confidence and trust in the healthcare professional they saw or spoke to. This is great, but it is lower than the national average so we are working on ways to improve these results, in particular by making it easier for patients to ask to see their own GP.
Patient satisfaction in out of hours services has fallen significantly, with more patients experiencing long waits. In 2020 only 18pc of our patients said they were waiting too long for out of hours services, this year the figure has jumped to 69pc, with 66pc of patients thinking the service was poor, up from 22pc in 2021.
This is bad news for everyone, because if out of hours is hard to access patients become more unwell by the morning, meaning more activity in general practice and in A&E. And with long waits for hospital consultants, mental health and physiotherapy more and more patients are coming back to us to ask for help and advice whilst they wait. We are happy to help, but we need more GPs to manage the workload.
Latest national statistics show that there are 1,700 fewer full time equivalent GPs now than there were in 2015. Fewer doctors but more work means everyone gets less and less time with their GP. At Living Well we have bucked this trend and recruited lots of doctors, but like almost all other practices we still carry vacancies.
Overall we are really proud of our staff who work tirelessly for our patients, to care for them and to improve services for our patch. At Living Well we are constantly making improvements and enhancing care. We love receiving feedback – good and bad – from our patients as it helps us make the right changes. And as ever we would like to thank our patients for their ongoing support for Living Well.