The death of Her Majesty the Queen is a seismic event for the United Kingdom. At Living Well we share the profound emotional shock and sadness at her passing with millions around the globe. Royalist or not, met her or not, her passing feels personal. The loss is genuine because something of great value has been taken from us and our country.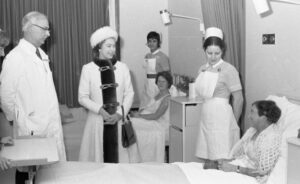 Our recent local Jubilee celebrations illustrated just how much she was held in high esteem by millions. We evidently love her as much as when she came to open the first section of our Teaching Hospital in 1974, our first Southampton hospital visit by a reigning monarch. She chatted to patients and students, and admired its construction with minimal disruption to the existing General Hospital, which was no mean feat. Having a constant stream of medical students and graduates from this faculty today at Living Well means that, like the Queen, we tend to take its presence for granted. 
Death was always, of course, an inevitability, as it is for us all. Our Monarch has now passed from time into eternity, and the Queen has met The King. But it was somehow unthinkable that she would no longer be with us. 
She was the ultimate symbol of British constancy. Different generations had experienced her loyalty to her country, commitment to her vows, stoicism in the face of personal loss, and her untiring service. As the world threw political, health and social storms at us, as her own and others families raged, she was an anchor to which our country was tethered. She was just always there. Now she isn't. And the grief is real. 
Long Live the King.